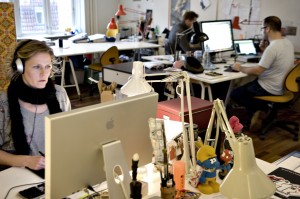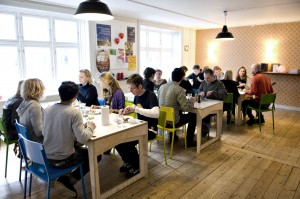 With its 2500 m2 creative house in four floors in the heart of Vesterbro, Copenhagen, Republikken has almost everything. It has a café, workshop, meeting rooms, dinner room and of course coworking space and offices, as well as being host for interesting events.
Office and workspaces options:
Fixed: 3000 dkk / month
Flex: 1500 dkk / month.
Officehotel: starting at 6000 dkk.
What does this co-working space focus on?
Republikken believes that innovation and early stage businesses needs an interdisciplinary enviroment to really grow original ideas that can sprawl into real buisnesses and products. This enviroment is what Republikken is all about. The house is currently hosting 120 people who represents a vareity of proffessions: Illustrators, Photographers, Advetisers, app-builders, architehtcs, journalists, web-developers, It-startups and much more.
Contact information for office and work-spaces
You can reach Republikken at:
Email: info@republikken.net
Phone: 0045 88 300 122
Web: republikken.net
Location: Vesterbrogade 26, 1620 København V